Best Selling Tumble Dryers
Tumble dryers are one of our best selling appliances during the winter months. Coming in various sizes and types, the average drum size comes with 6-7 kg capacity. There are 3 main types of tumble dryers;
Works by expelling warm and dumping air out through a large circular opening installed in an external wall, or through an open window
Condenses the damp air back into water. The water is then automatically collected in a plastic container, which you have to remove and empty manually after each use.
Similar to condenser, the heat pump technology conserves and reuses air, making this feature the most energy efficient tumble dryer in the market.
To help choose the right one for you, below are our current best selling tumble dryers:
Ideal for small spaces the Amica ADV7CLCW is a sensor vented tumble dryer with a capacity of 7KG, ideal for medium sized households.
This dryer has 12 programmes – including 4 sensor drying cycles, a setting for your delicate garments, an anti-crease function and delay start.
It features a LED display, 145-minute timer and has child lock for extra security. The energy rating of this dryer is C with a noise level of 69dB.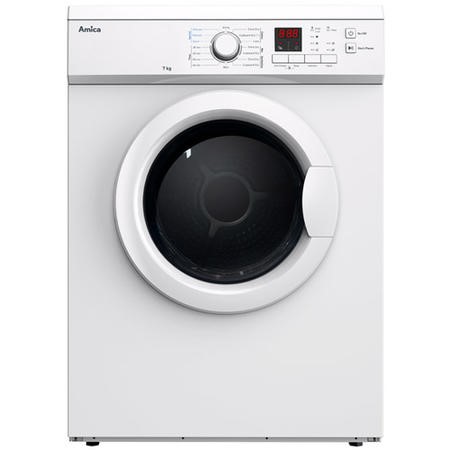 Available in 3 different colours (white, black and silver), this compact vented dryer by Teknix. Not only is this a popular choice for space saving and it is low in price.
It has a 2.5KG drum, 200 minutes timer and 2 heat settings, making this dryer easy to use.
This dryer come will a wall mount kit. C energy rating.
This 9KG condenser dryer by Hoover is ideal for medium households with a 115-litre drum. It features 16 programmes. Energy rating B.
With 4 active sensor technology you are able to choose from 4 different level of drying, giving your garments the best result.
Designed to fit around your lifestyle, choose when to start drying your clothes with a 1 – 23 hours start delay.
The HLC9DF-80 can be connected to your smart phone thanks to the one touch technology, NFC wizard app. Enabling you to choose your drying cycle.
Coming soon – NEW Compact tumble dyer by Montpellier: MTD30P 3KG vented dryer featuring 5 programmes.