How to choose the best washing machine for you
Buying a new washing machine is an important decision, they are not a cheap appliance to purchase or to run. The more efficient the washing machine is the cheaper it is to run. Some newer models will have a energy rating of A+++. How to choose the best washing machine for you depends on the size of your household, what features you are after and how efficient you want it to be. The standard size of a freestanding washing machine is 85 (H) x 60 (W) x 55 (D) cm.
Kilogram Size
The first thing to look for when choosing a new washing machine is the kilogram size. This refers to the weight of dry clothes, wet clothes weigh more than dry clothes therefore filling your machine with over 80% of dry clothes is not recommended. 7KG-9KG washing machines are ideal for medium sized households.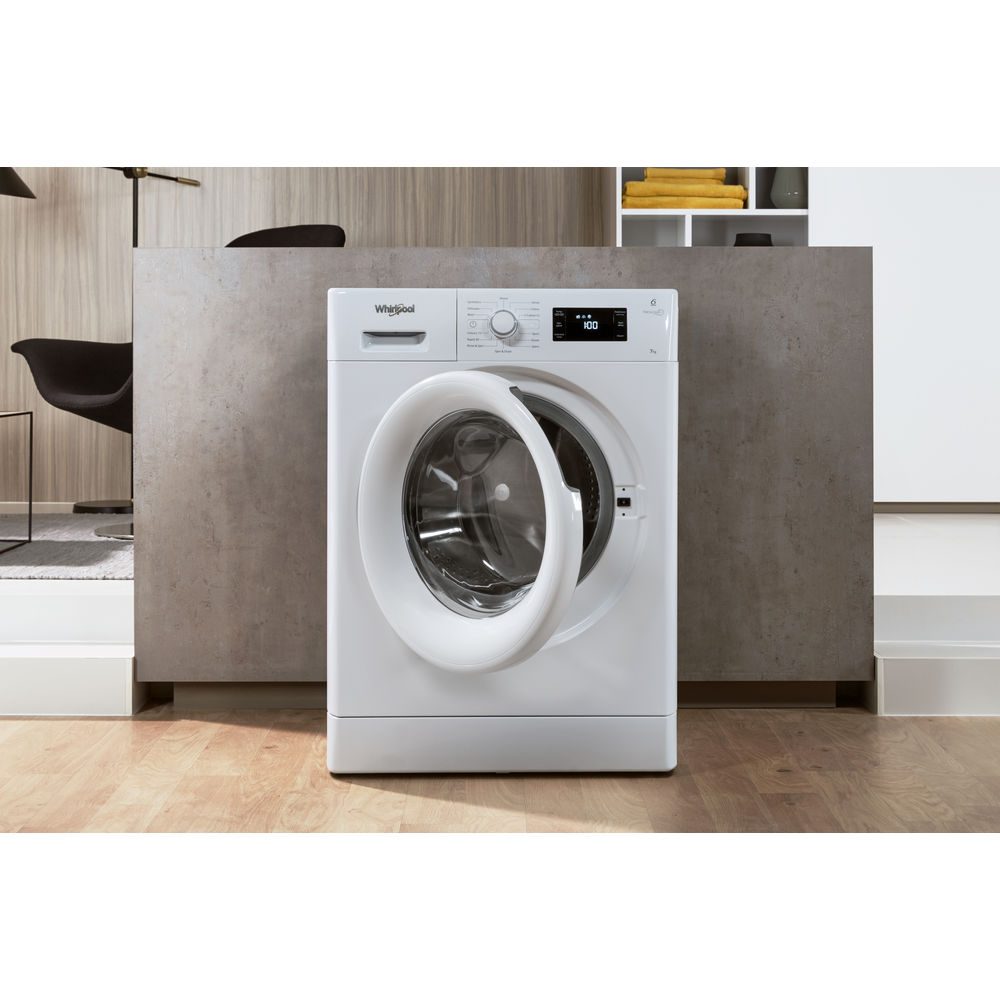 This Whirlpool Washing Machine FWL71253W features in white had a spacious 7 KG capacity. A fast, resource-efficient 1200 revolutions per minute spin speed. The Colours 15 programme delivers the same impressive results at 15 degrees that you would otherwise expect from a 40 degree wash. It also has a 30 min quick wash for those in on the go.
Programmes
The next thing to look for in a washing machine is the programmes. Often machines will have a quick wash option which is great for when you are in a hurry, have a smaller or less soiled load. Quick wash programmes are often designed for smaller loads (please refer to the washing machine manual). The heavier the load the longer it will take to wash.
It is important to separate any white clothes from coloured clothes to prevent any colour transfer. Washing machines generally have a programme for these.
A sport cycle is handy for sweaty and soiled clothes although this cycle will take longer as it ensures your clothes are cleaned thoroughly.
Special care programmes such as an Allergen programmes is designed to remove pollen and dust mites from your clothes through out the wash. This type of cycle is ideal if you are sensitive to allergens. Another special care programme is hand wash only, this cycle is created to take care of your items with a gentler wash.
Baby cycles are ideal if you have a little one around. Baby grows and bibs can get very dirty this cycle will intensively remove food stains and dirt as well as removing up to 99% of bacteria at wash temperatures as low as 30'c.
Other programmes you might want to consider; extra silent setting, intelligent dosing, eco / efficient cycle, dedicates, easy care.
Start Delay
Many washing machines now have a delay start option. The start delay can be from 1 hour – 24 hours. Simply load the washing machine up select the cycle and choose how long you want on time delay. Great if you are at work all day, the wash can be ready when you are back.
Hoover Black DHL1482DBB/1-80 is a 8KG washing machine. It has a 24 hour time delay option.  Using one touch technology on a android smartphone, you can control, monitor and manage the appliance via your mobile Hoover wizard app. The A++ energy rating on this machine is efficient, saving you money of your bills and being kinder on the environment.
Spin Speed
Spin speed varies from 1000 RPM (rates per minute) to 1600 RPM. The higher the spin speed the less water left in your clothes; however, it may be nosier. You can often control the spin speed used in a wash.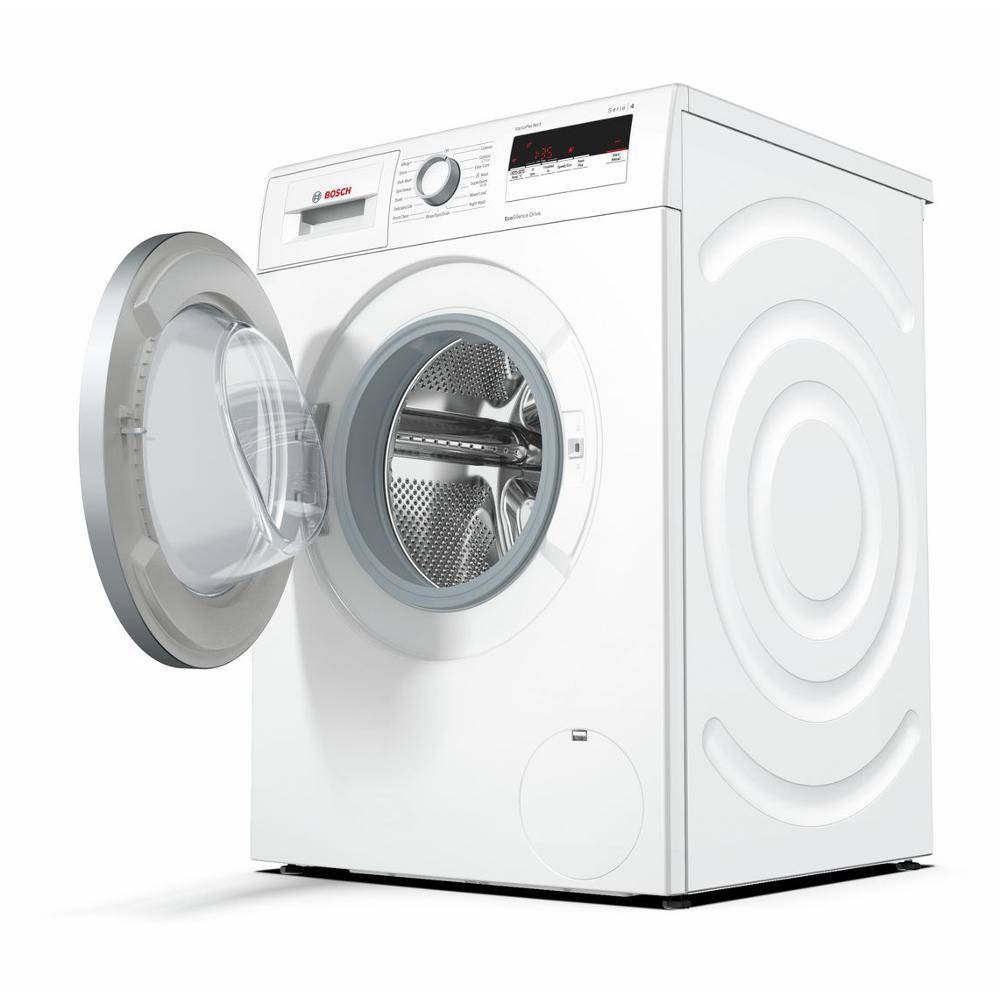 Bosch WAN24108GB 8KG washing machine has a Eco Silence Drive™ which is extremely energy-efficient and quiet in operation. Active Water™ saving water and costs thanks to a 2-step automatic load adjustment system. It is also Vario Perfect™ taking 65% less time or uses 50% less energy – delivers total flexibility.
Integrated Washing Machines
Integrated washing machines offer all the programmes of a freestanding washing machine has but it can be built in to your kitchen or utility room. Fully integrated washing machines often have a flatter door so the cupboard door hinges can fit on the appliance. The bottom plinth on the machine will also be recessed so that the wooden plinth at the bottom of the kitchen units can run across. The width and depth is important on a built in washing machine as you need it to fit in your cupboard space.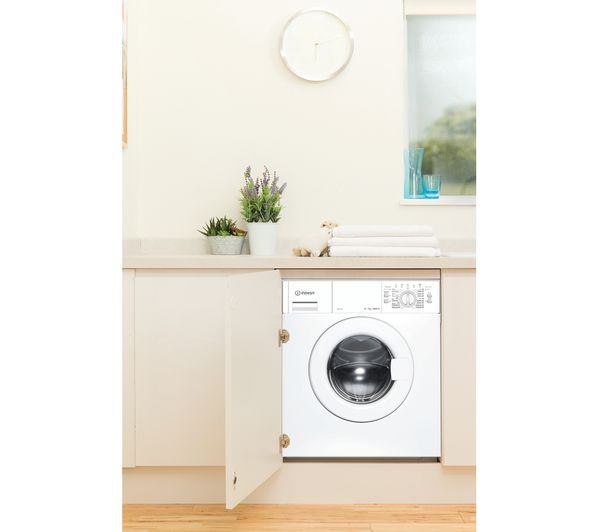 The Indesit IWML722 is a built in washing machine with a  7 KG load capacity and 1200 RPM spin. It features 12 programmes including a quick wash cycle, (30 mins for 3KG of washing). It is energy efficient with its A++ rating, saving you money off your bills.