Man Caves and She Shed's are perfect for all sorts of reasons like hiding from your kids and having some time out, a place to share with friends and family, to study and work hard on your own, a retreat for mindfulness or a space to do crafting the reasons are endless.
These places have been created in garages, lofts, cellars, summer houses and sheds, anywhere there is a space!  A retreat of your very own and a place you can design as your heart desires, as anything goes.
A nod to the Caribbean or the local pub, a play space for the kids, an artist's studio or a Zen space they have become so popular with so many for lots of reasons.  Fairy light festooned and glamorous with cocktails on the menu, or pumps at the ready with your favourite pint to be glugged and football memorabilia on the walls, or even a mixture of the two, they are all our own little escapes from daily life.
Personally, we love Man Caves and She Dens here at EAW and encourage anyone to have a retreat, somewhere that is just for you to enjoy, they are excellent for your mental health as to often we don't make time for ourselves.  So go be creative, it doesn't matter if it's an old shed that needs some paint and love, with second- hand furniture, or a brand-new garden building with all the trimmings (you lucky thing!), these spaces are a valuable asset to any home.
We would love to see your photos of your Man Cave or She Den so please share and we will vote a winner with a prize to be sent out.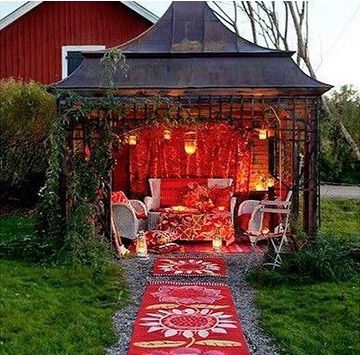 Perfect places to have our Retro Fridges to store all your favourite beverages.
Our Montpellier Retro fridge available in stock in Blue, Cream, Red and Black