November the 21st is national gingerbread cookie day. What better excuse is there to fill your kitchen and homes with the smell of fresh ginger spices! Gingerbread cookies are often a popular choice for all the family during the festive season. Crispy on the outside and soft in the centre is the perfection combination.
This recipe is easy to make, taking less than 1 hour. It can make up to 15 cookies, the preparation time is 30 minutes and cooking time 15.
Ingredients
1 ½ Teaspoon Cinnamon
5 ½ Teaspoon Ground Ginger
350g Plain Flour
100g Butter
1 Teaspoon Bicarbonate Soda
175g Light Brown Sugar
1 Egg
4 Tablespoons Golden Syrup.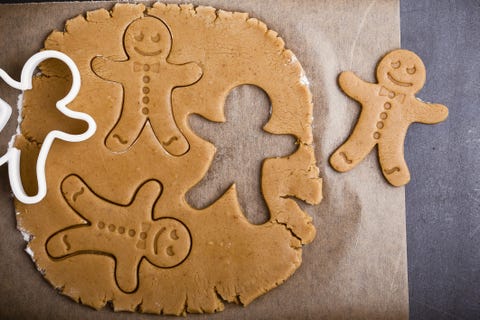 Method
Start by pre-heating the oven to around 190°c or gas mark 5.
In a medium sized mixing bowl, mix the plain flour, butter, ginger, cinnamon and bicarbonate soda until the mixture is crumble like. Mix with fingertips.
Next add in the sugar, beaten egg and syrup until the mixture forms a firm pastry like mix.
Roll out the pastry until it is around the thickness of a £1 coin, keep turning the pastry a quarter at a time to ensure it is rolled out evenly. Make sure the surface is dusted with flour, so the mixture does not stick.
Use a biscuit cutter to start cutting out the gingerbread shapes. The smaller the cutter the more you can get out of the mix. With the festive season upon us why not use a Christmas tree, reindeer or star cut outs too.
Place the cut-out pastry onto a greased, non-stick baking tray (alternatively you can use baking sheets) and bake for around 12-15 minutes, until golden brown.
Take the biscuits out of the oven and leave to cool on a cooling rack. The biscuits will harden as they cool down.
Once cool you can decorate with icing, sweets, sprinkle, chocolates, or however you wish and enjoy 😊
For our latest cooking appliances and equipment see www.eawuk.com/cooking-appliances-online